For more letters of intent, follow the button...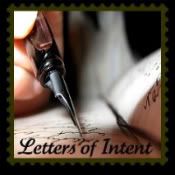 Dear Mr. Growth Chart,
Shut up! Oh, and go to hell!
I took my baby boy in for his one year doctor's appointment this Monday. Everything the doctor had to say was positive. He said my baby boy is normal and healthy and developing very well in every single way. My little trooper had his MMR (measles, mumps and rubella) shot and his chicken pox vaccine. He cried for less than 30 seconds with each shot and then it was done. My kid is tough. He's meeting all his milestones just fine. He's learning two languages (three if you count how he's beginning to imitate the dog's bark). To me, my child is exceptional and to everyone else, he's completely normal!

If it weren't for you, I would score the visit a 1000% success. But you had to go and tell me that my son is under the 25% line for his length and right on the 25% line for weight. I know my boy is a little smaller than most of his friends his age (and some of his friends who are younger than him), but it's not a big deal. None of the kids or mothers give a hoot. To them, my son fits right in with his peers. They don't look at him and say, "Man, he's small... what is he? A 20%er?" It's not like he looks tiny when he's sitting with the other kids – it's just that if they're sitting side by side, you see one kid is a little taller than the other. On your stupid chart, 1 inch covers about 25% points at the age of one year. Really? You want to call my kid a midget over one inch?

See, there are plenty of us in my family that aren't that big (at least not vertically speaking). But we're not that small either. We're normal. So it makes sense if my son isn't very tall. But I don't need to hear any crap about him being in the 20th percentile… I don't like what that does to my thoughts about his development.

Let me tell you a few facts about my son Mr. Growth Chart. He is devastatingly handsome (in the 99% on my chart). He is charming and smart. He makes me laugh every day. And he is 100% normal!!! I could tell you what to do with your statistical mumbo jumbo, but instead I'll just ask you to please shut up and leave me alone.

Oh, and GO TO HELL!!!

Up yours,
Radar's mom
PS - On a happier note... guess who finally shed her Grinch costume and went and got a Christmas tree???