I adopted Mulligan from a rescue shelter 9 years ago this summer. He was already at least 2 or 3 years old... that puts him at at least 11 years. I know that isn't really old for a cat, but Mulligan isn't just any cat. He's F.I.V. positive. When I adopted him I thought that meant he wouldn't be around too long and that he'd be a sickly cat during his abbreviated lifespan. Now, 9 years and almost no illnesses later, I had come to think that maybe the F.I.V. didn't stand for Feline Immunodeficiency Virus... maybe it was more along the lines of Frisky Immortal Vagabond.
Until yesterday.
Mulligan is a porch dweller now. He lives on the back porch and comes in to visit once or twice a day. He'll stand at the back sliding glass door and meow to come in. Then a half hour or hour later, he's usually meowing to go out again. Every morning starts with a meowing cat... so much so that Radar has now learned to meow and when we come downstairs in the morning, he yells 'gato' and meows as he runs to the back door.
But yesterday morning Mully wasn't meowing to come in. I went out and found him lying down. He wouldn't get up. I thought maybe it was just a bad day. Before leaving for work I noticed him get up and hobble to the water for a small drink. But then he hobbled back and plopped back down to sleep. When I got home from work he wasn't any better. I made a fresh bed for him, tried to soak his paw that was clearly hurting him and carressed him. I was worried.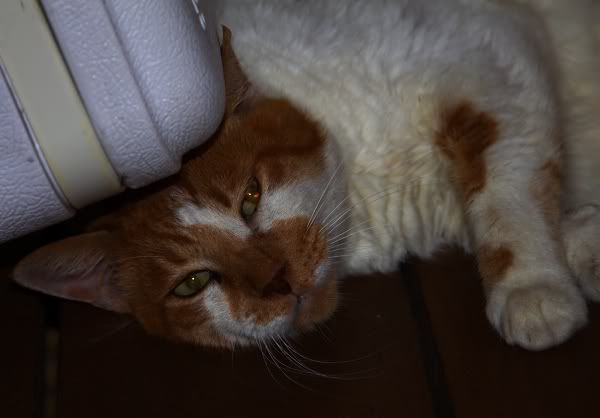 So this morning I scooped Mully up and took him to the vet. In the five years I've lived on the island, this is his second visit to a doctor (I had him declawed when I was pregnant because he's a scratcher). In the 9 years I've had him, it's his third time (I had to get him shots before bringing him to the Bahamas). And yet he didn't protest. I was worried that my green eyed friend was letting me know that his fight was over.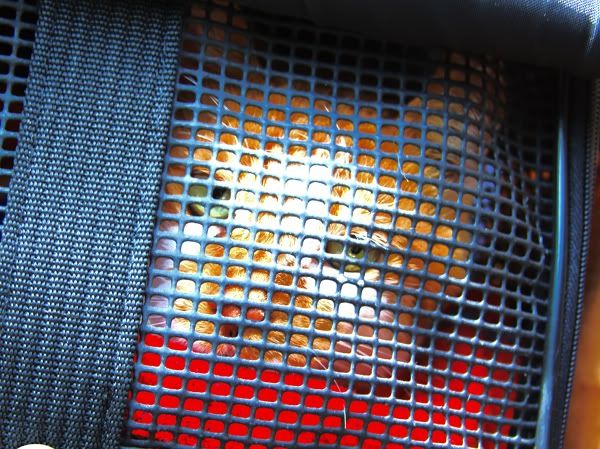 During the hour that we were in the waiting area, he never moved or made a peep from his carrier. The sick feeling in the pit of my stomach was growing worse. Poor Mully... was this it?
In a word...
NO!
Once we got into the doctor's office and the vet started probing around Mully's foot, he made it very clear that he had plenty of fight left in him. It took three of us and a cat muzzle to clean the infected cut on the pad of his paw, to give him a shot of antibiotics & pain killer, slather the wound in cream and wrap up his foot. When we finished, we were all pooped and the air was a dense fog of cat hair. The poor thing hasn't been moving because it just hurts too much to move!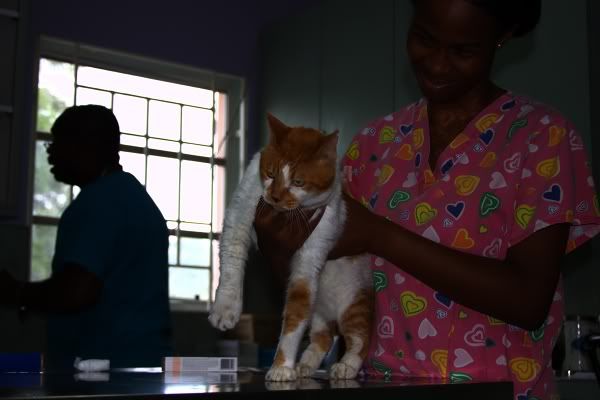 So now we're back home and Mully has hobbled about a bit already. Lucky me gets to force feed him medicine for the next few days and then we'll see how our friend is recuperating.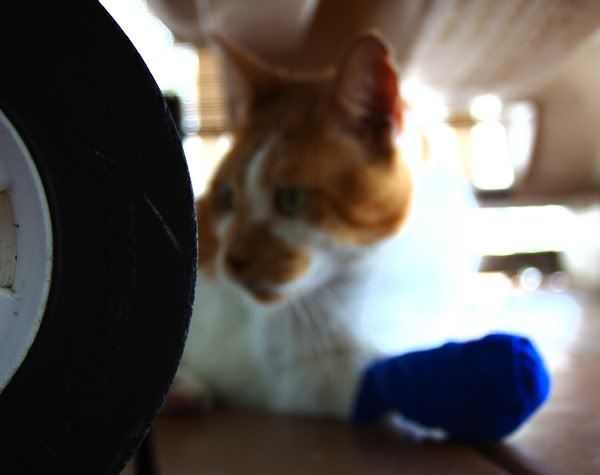 Maybe the FIV still spells out an earlier end than might otherwise be the case if he hadn't contracted the virus... maybe he only gets FIVe lives instead of nine...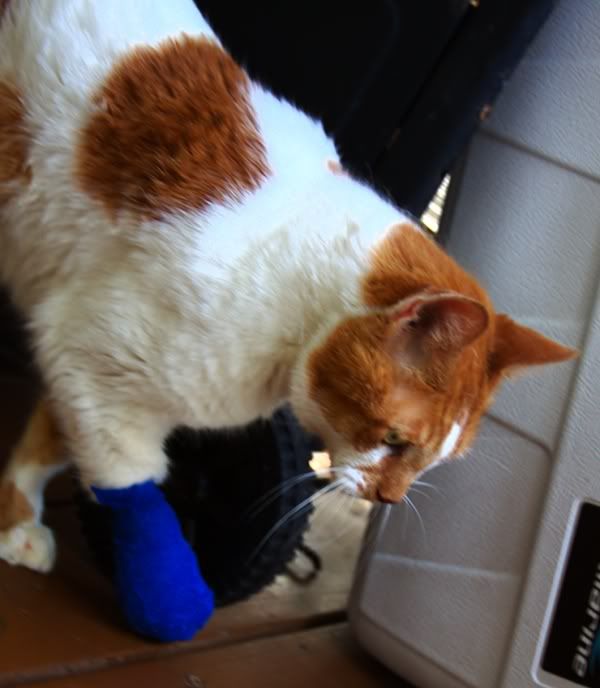 But I love Mully and so does Radar. So if that's so... if he only gets FIVe lives... well, I guess I'm just hoping that he's only on 2 or 3!
Titi, Radar & Mulligan