I've lived in the land of hurricanes for over 15 years now. First South Florida and now the Bahamas. Six months out of every year we have to think about that. We have to make sure that we have a 'just in case' plan. And although a hurricane is nature at its strongest and most destructive, it has one advantage over another of nature's temper tantrums, the earthquake. At least a hurricane gives you some warning. Warning enough to batten down the hatches or even evacuate. We actually have evacuation tickets in case of an approaching category 4 or 5 storm. An earthquake, on the other hand, gives little to absolutely no warning... so I guess I'll take my hurricane land for now.
Radar, on the other hand, seems to be more a fan of the earthquake. For the past month I've been trying to consistently introduce the potty as part of Radar's daily routine. Every morning after breakfast he spends naked time in his room with the potty and every time he sits on it we talk about pee pee and caca. He likes to take a little bit of toilet paper and stick it between his legs and say "caca." He likes to flush his potty (it has a flushing sound) or better yet, the real toilet (again and again and again). But it's been weeks now since he's actually produced anything into the darn potty bowl!
That being said, I know that he's only 19 months old and that he is starting to understand the concept. I know that because in addition to the non-productive potty rituals, yesterday he actually announced a 'caca'... like an earthquake, not a hurricane! We were in my bathroom (his potty is in the other room) and he had climbed into the dry tub with his toothbrush. I was brushing my teeth when he looked at me and said "caca". In the same breath he turned bright red. I dropped my brush, ripped off his pants and diaper (which was already pooped and fell face down onto my foot) and placed him on the big toilet as I chanted "caca, caca, caca!" But it was already done. The earthquake had hit with no warning and by the time I knew it was happening, I already had poop on my foot and an empty little bowel sitting on the empty bowl.
Oh well! It's still a good sign I think. We're going to keep working on the advanced warning system in hopes of reaching hurricane status in the next weeks and months. And since I don't have pictures of a naked child propped up on an adult toilet, or a mommy foot covered in poo, I thought I'd just leave you with some pictures of Radar playing his ABC game on the internet. It's cool because he really gets it that when he pushes the keys, a new animal will growl or tweet or howl for him. He's already more computer savvy than his Grammy! Another couple of months and I'm pretty sure he'll surpass me.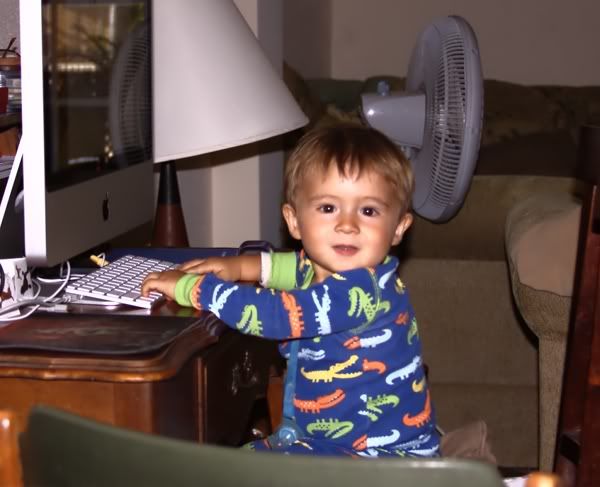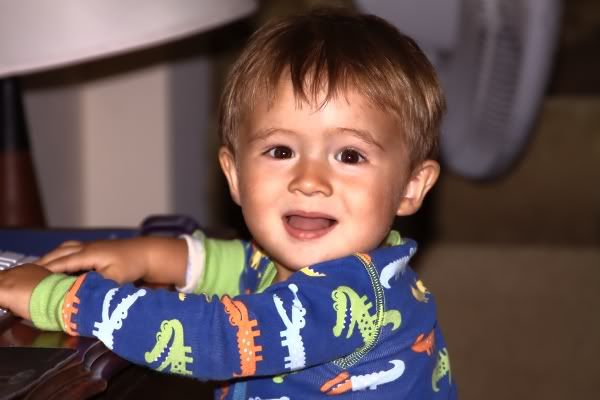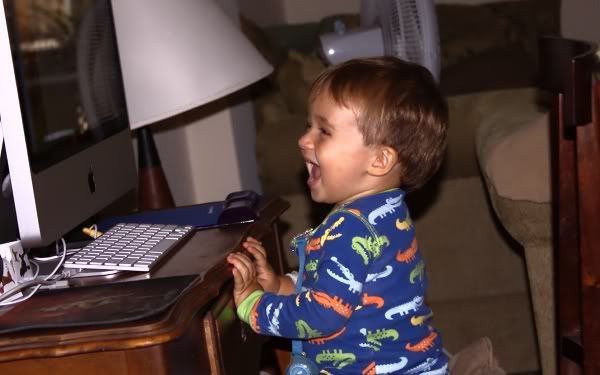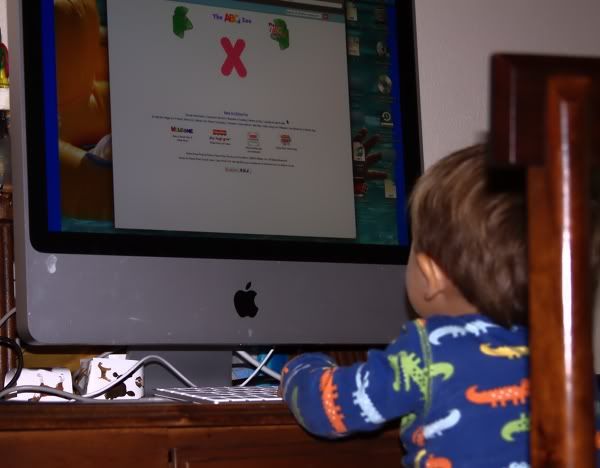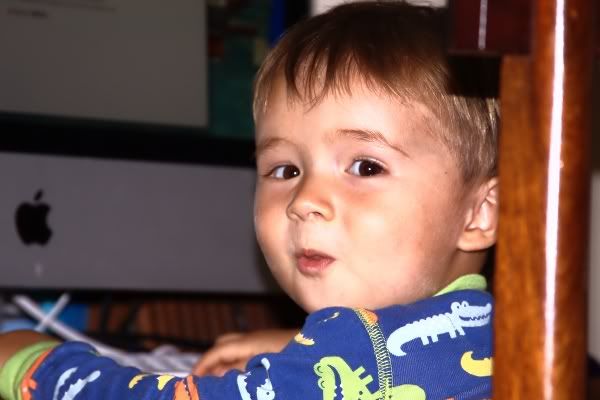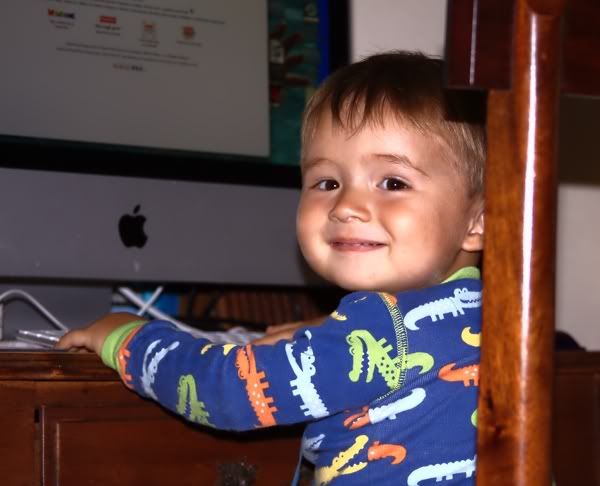 Anyway... that's it for today.
Lots of love,
Titi and Radar