Sorry for not posting sooner, but Halloween was a non-stop event that went from 6am to 10pm, after which I felt as dead as our friend Skeletor. But it all went off without a hitch (once I'd conceded to Radar's refusal to don the pug costume). With creepy music seeping from the kitchen window, green and red lights illuminating the house, tiki torches, jack-o-lanterns, witches, graveyards, severed finger cookies, rats, deviled egg eyeballs, a mad scientist, puppy blood wine and tons of candy, we welcomed nearly 400 guests! There was lots of picture taking and when I went down the street to take Radar trick-or-treating to a few houses, it did my heart and ego good to hear people talking about the really cool haunted house at the end of the street.
Unfortunately it's impossible to capture with my camera and I spent most of the night chasing Radar, so dragging my big fat camera around became a bit burdensome. But even Radar had a blast repeatedly running into the street to chase the ghosts and goblins and princesses and witches and super heroes and space troopers! It was a blast!!!!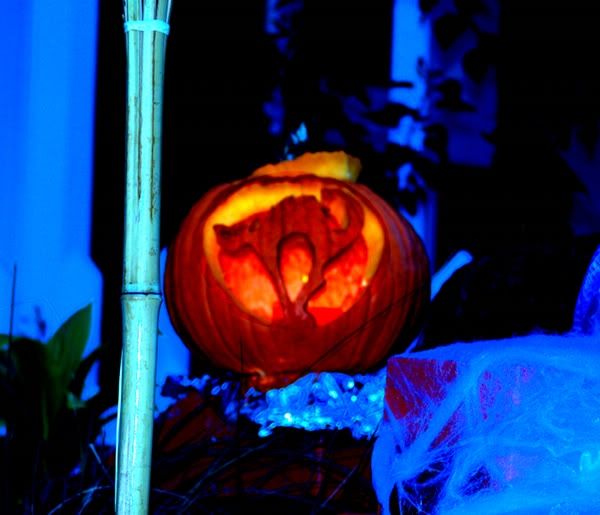 And now that it's over, it's time for our annual Radar Love Halloween Costume Contest.
Today I head to Florida and tomorrow to Costa Rica for a 6 day business trip. This will be the longest I've ever been apart from Radar!!! But while I'm down in CR, I will find some appropriately spooky and horrible prize to bring back for the winner of our contest.
Please submit your entries to me by e-mail (either my yahoo or Radar's e-mail shown on the sidebar) by Saturday, November 6th and when I get back, I will announce our winner.
Good luck!!!!
Lots of love,
Titi and Radar