I should really cut Radar some slack. It's true that he doesn't have any patience. He's a toddler. I've read in books about different tactics you can start to use to help toddler's build patience... like when he wants something, you hold up a finger and say, "wait one minute", then let him see you do something else and then give him what he's asking for. It's a way for him to see that I'm not ignoring his request and that he just has to wait a little bit and he'll get what he wants. Then you stretch that time out slowly... a few seconds at a time, until he's waiting a minute or two or three. Learning patience. Well - sounds good, but we're sort of stuck at the 5 to 10 second mark. He especially gets really pissed if he goes to the trouble of using his sweet little "pees" (please) and doesn't get what he wants immediately... I mean, why bother with 'please' if you just have to wait!
But honestly - I should cut him some slack. He's a toddler. How can I expect his raging emotional toddler brain to practice patience when I know plenty of adults that don't have any more patience than a toddler. Like this one lady I know... she' s 42ish. She has a toddler of her own. Her toddler's 2nd birthday is coming up on December 16th (I know - what a coincidence!) She wanted to make sure that her toddler's birthday was special and separate from Christmas, so she had decided not to decorate for Christmas until after his birthday. That way her little boy wouldn't think that all the hub-bub on the 16th had anything to do with all the candy canes and red and green lights and santas and all that other Christmas stuff. Easy enough to put off getting a tree until the weekend after his birthday...
... except of course that this lady has the patience of a toddler and on this past Sunday morning, she strapped her kid into the car and off they went to get a tree. From my tone you can detect that I'm a little annoyed that this lady didn't wait. So I'm not going to name names because I don't really want her to know that I'm talking about her. And plus, this isn't really about her... it's just making the point that if an adult can't learn patience by 42, then I really should give Radar a break! Don't you think?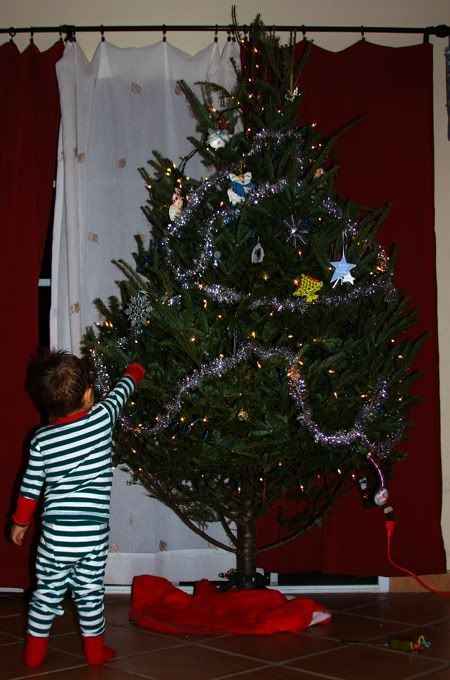 Lots of love,
That lady and Radar