An anonymous commenter noted that in 2009 Radar's blog featured 298 posts and in 2010 (so far) only 145 (this would be 146) and that I should resolve to make 2011 a better year. Good point you! Of course if I do make such a resolution and if that resolution suffers the fate of all of my other New Year's resolutions... well, then 2011 could indeed be a bleak blogging year. But in the spirit of the holidays, I'm going to remain optimistic and say that I do resolve to be a better blogger in 2011... perhaps creating some regular features and more regularly joining in on other fun blogger games!
As for 2010 (which isn't over till the fat lady sings (and on account of one of my failed 2010 resolutions, I am said 'fat lady')), I figure that I can at least aim to surpass the 50% mark. That means that in the next 17ish days, I'd have to make at least 4 more posts (not including today's). That's not only doable... it's easy. See, although things had settled into a quiet, peaceful lull after our hectic Thanksgiving break travel, as of yesterday they picked right back up with the arrival of Avo and Nana Angela. Maria leaves for Peru today (for 3 weeks) so we've got some pinch-hitting nannies & other visitors coming onto the scene. Godmother Gail flies in on Friday, Grammy flies in next Tuesday and then we head to Florida on Christmas day for a few days.
AND, of course, in just two days time, Mr. Radar will be officially turning TWO!!! Since Maria is leaving today, we took the opportunity to celebrate Radar's birthday for the first time last night (we'll obviously celebrate again on his actual birthday and then again on Friday with Gail and then next week with Grammy... 4 celebrations for 2 years... seems reasonable for such a delicious little monkey.) And birthday party #1 was a great success! I made a carrot cake from scratch (super yummy if I may say) and Radar absolutely soaked up the attention. It was also fun because Radar now loves opening presents (the ripping the paper off anyway - he's not too interested in the present itself).
So I'm not going to feel bad about signing off now since I'll be back in another day or two to post more birthday party pictures. For today I'll post a few from last night... not sure what the whole tongue curling thing was all about, but it was cute, so who cares... I'll just assume it had to do with Mama's yummy cake!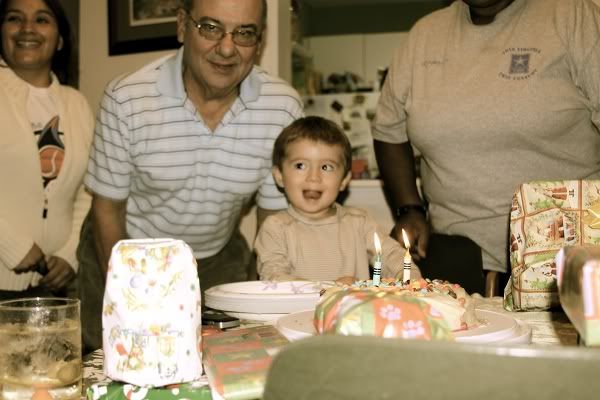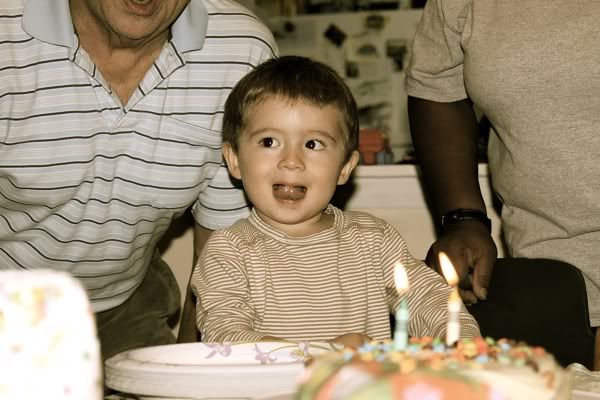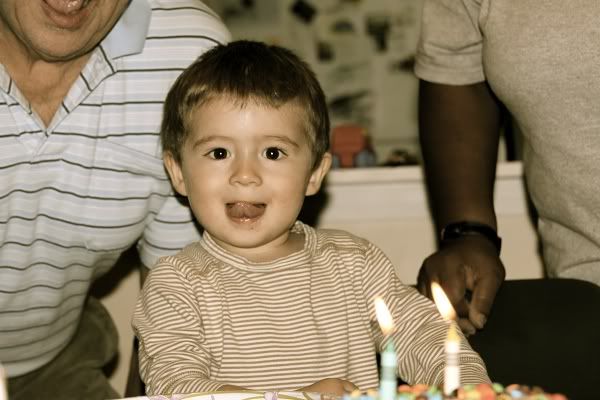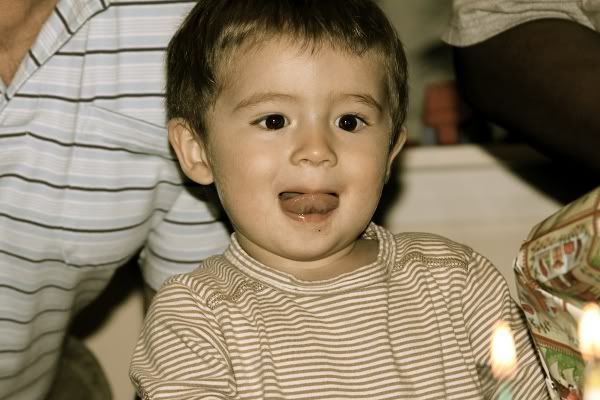 Lots of love,
Titi and Radar