I've had some trouble getting back into the swing of things and finding inspiration... not good for someone who claims to be an aspiring writer. But hey, let's just go with Marco's comment from my last post about how I'm an amazing mom and leave it at that!
But really... the general purpose of this blog is three-fold.
The principal reason I keep this up is that it is my virtual baby-book for Radar. I don't have a single completed photo-album. I have three or four empty baby books that were given to me as gifts. I really am a pretty disorganized person and this blog seems to have been one way that I've been able to keep a pretty good record of pictures, milestones and adventures!
The second reason for the blog is to keep family & friends up to date on Radar. Perhaps I ought to set an example of modesty, but the plain and simple truth is that I very, very much like to show off my little man. I was just at business meetings in Madrid, London and New York and when one of the bigwig suits asked me how my son was doing, I replied by saying "he's the most handsome boy on the planet and it turns out he's a genius too!" I bask in Tia Lali's comments because she is always the first to jump on the 'Radar is perfect' bandwagon. So, since my family & friends are scattered around the planet, this is the easiest way for me to brag about my most handsomest genius!
And finally, the third main reason I do this is to try to entertain my handful of readers. It brings me great joy to imagine my cousin Rafa smiling as he reads some ridiculous, self-deprecating story I've posted or reading comments of witty repartee from Tia Sara!
Lately though, I've been falling down on the job and haven't really fulfilled any of my reasons for writing this blog. And I guess when you hit a rut, the best thing is to approach the problem one step at a time. So let's take that first step today and just stick with Reason #1... a record for Radar.
With that said, today we'll document for the annals of Radar history that while milestones continue to tumble like a stack of marbles...
...one thing remains absolutely constant. What is it then that holds this copper haired boy's attention more than anything else?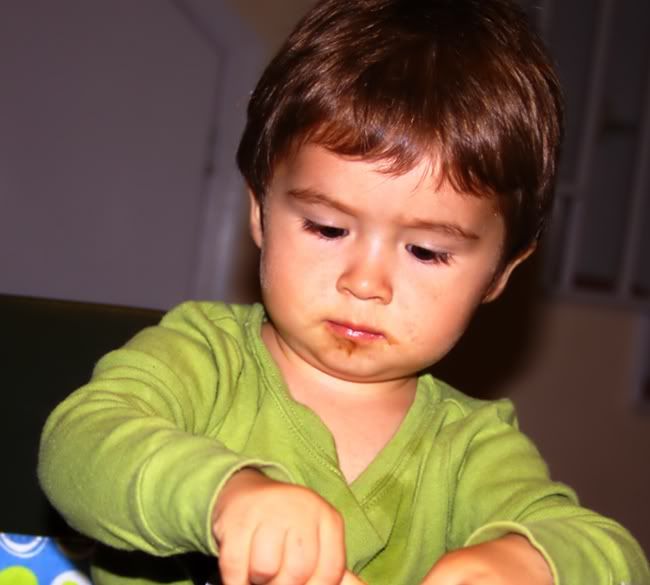 Carros!!!!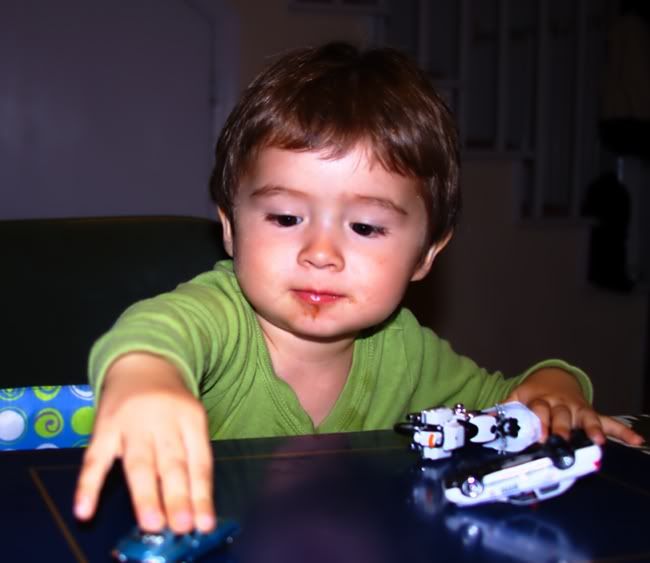 Although that's a bit too narrow...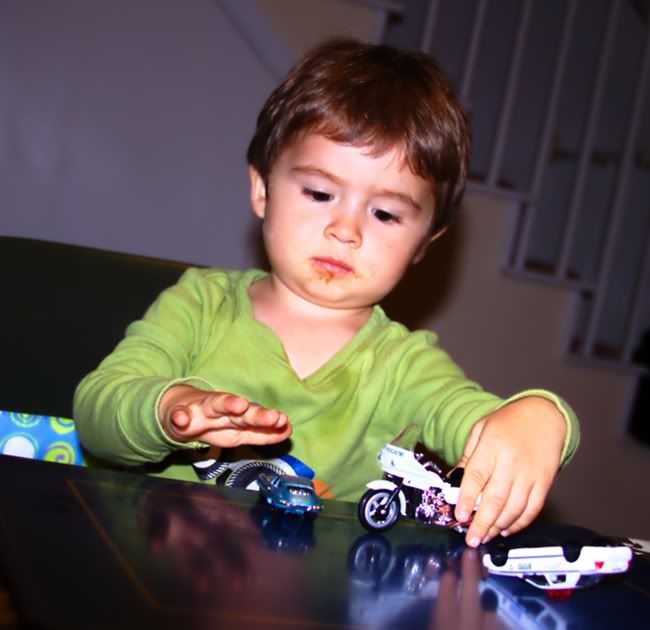 ... because he likes to mix it up with vans and buses and planes and forklifts and tractors...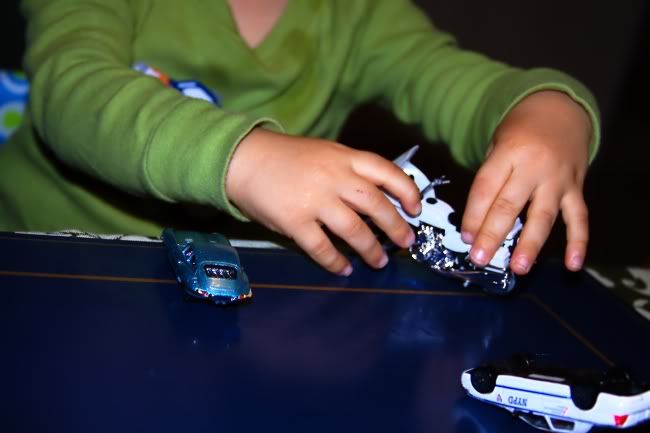 ....and motorcycles (which he now calls mo mos)...
And since this interest was nearly his first and has only intensified with time, I guess I just need to accept that Radar most definitely falls into the stereotypical boy category when it comes to cars.
Get ready Grammy...
looks like this year's Thanksgiving vacation is going to be a NASCAR one!!!!
Lots of love,
Titi and Radar
PS - Yes, that's chocolate on his chin.