And September Radar Love blog posts!
All things that come in a dozen.
I did it! I can type any old crap and in this post and meet my goal.
But I think I promised more goods on the Basque family... and so you shall have it.
My mom recently talked about the difference between 'family tree' and 'family'. The former has to do with the genes that tie us together from one generation to the next... genes that keep getting watered down over time, but that link us none the less. You'll hear a story in the news every now and then about the exhumation of someone long dead whose dna is matched (or excluded) with that of someone thought to be a descendent. My family tree includes Spanish Kings and Mayflower Settlers (and even George Bush!).
But they aren't family. Family is deeper and richer than family tree alone. Hannah is my family, even though she's not biologically related to me. Radar's godmother Gail is my family and my own godparents, Ricardo & Casilda, and all their kids are my family. And of course my immediate biological family tree is also my family.
In the Basque region of northern Spain, I found a perfect merger of the two. These people don't really look very much like me and although I've heard some sparse stories, I had never met them and knew very little about them as individual people. They were definitely a part of my family tree because my paternal grandmother's maternal grandfather was also Maria Belen's maternal grandfather's paternal grandfather.
Confused? Me too. Family trees can get confusing awfully quickly. But the point is that we're related... by the time you get down to Radar and Leide (pictured two posts ago), you're down to a fraction of a percentage that they share as biological family.
We spent two short days with our family tree in Jugo and they quickly blossomed into our family! They were so welcoming and just as interested in our lives as we were in theirs. We looked through old pictures and shared stories of the people we both know and knew in common, and of their families. I took notes and scribbled down all the strange Basque names that eventually led back to our common ancestor. We ate... we drank... and we visited the church up on the Jugo mountain (a road that starts right behind the farm house and steeply winds up until it reaches this gorgeous clearing at its peak)...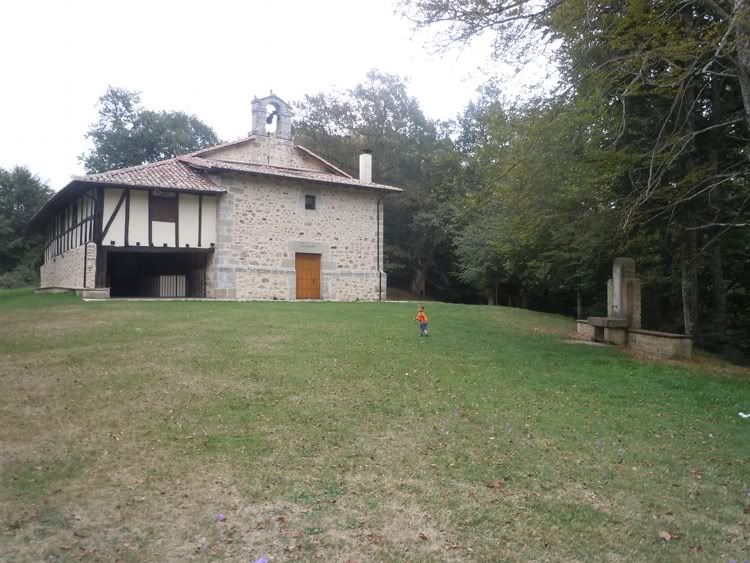 ...we rang the church bells...
... we stood in front of the sign that says a bunch of things in Basque... anyone care to venture a guess????
...and we even played a seemingly impossible game of 'bowling' (or juego de bolo alaves) where you have to roll a 5 lb wooden ball (no finger holes) down a 7 inch narrow, 65 foot long wooden plank (the loma) to knock down four wooden pins that are impossibly placed (except for the head pin (called the canton) that is set right where the plank ends, so if you manage to keep the ball on the plank, that pin pretty much goes down!)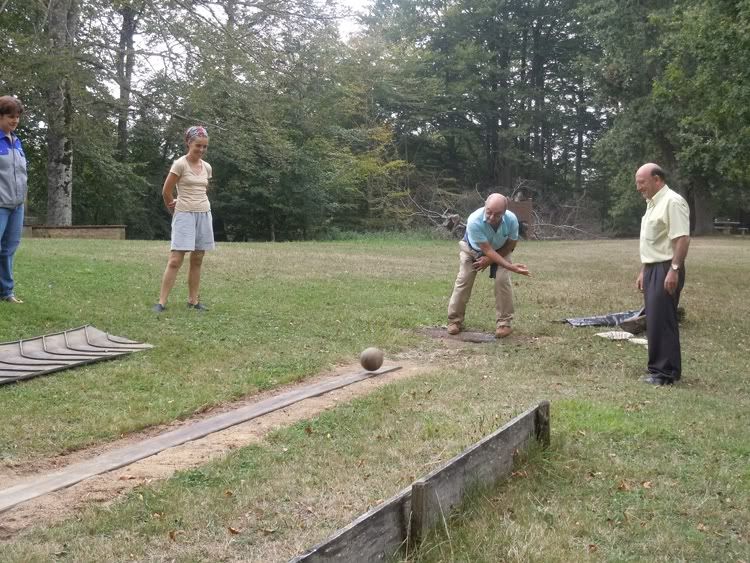 Hmmm.... why do you suppose I took such a wild tangent off of family and into some traditional, yet impossible game that Basques have played for centuries?
Well... quite obviously because other than Jose Maria (on his 5th or 6th try), I was the ONLY other person that kept that damn ball on the plank and scored a point - and I did it on only my second try!!!!!
Anyway - it was really wonderful and I can't wait to go back!
And that, my friends, family and other readers, wraps up September in a neat little bow. Tomorrow starts October which consists of another visit to see Hannah & more importantly (sorry Hannah), of Halloween!!! I have already been brainstorming on costumes and projects for our mini-haunted house. Unfortunately, Skeletor (
seen here
) was put up in the attic and was the victim of a visiting rat... I guess there's a downside to using all-purpose flour when making papier mache projects... it tastes like cake to some!
In short... I hope to keep up a reasonable pace in October, but I won't stick to a fixed number of posts as a goal (mostly because I quickly went over to random.org and the random # it gave me between 1 and 31 was 28... errr... I don't think so!)
Lots of love,
Titi and Radar
PS - Ok, so Radar did actually score a point in bolos...
...but that was on account of him being a big, fat cheater and throwing the ball from just a few feet away from the pin!
PSS - Just because it's cute... here's Radar doing one of his many favorite things to do... taking pictures... and every time he lifts the camera to shoot, he says...
"Say Cheeeeee"