Yesterday was a really long day.
But Radar was SUCH a trooper! When we landed in Miami after a 9 hour flight, everyone, and I mean everyone, in the seats surrounding us complimented him on his stupendous behavior. He only slept for an hour of the flight, so he had 8 hours of spectacular behavior. Then we had a 3 hour layover in Miami and he conked out on the flight back to Nassau. It was a long, long day, but apparently not quite long enough to knock him off of Spanish time because he was up and smiling in my face at 3:30 this morning. I was amused.
Now at 2pm, I feel far less amused.
So there's just no way for my low capacity brain to blog a proper blog. But I wanted to at least leave you with a couple of pictures and to answer Marco's question about the chicken baby. Yes - the little girl in the picture with Radar from the last post is indeed the daughter of the chicken baby.
In short... Tia Sara sent me a few pictures to take with me. Everyone LOVED the pictures (I printed out copies), especially Pilar (who also cried when she saw the close up of her sister Maribi).
From this picture (from 1969, when Tia Sara was pregnant with Carlo)...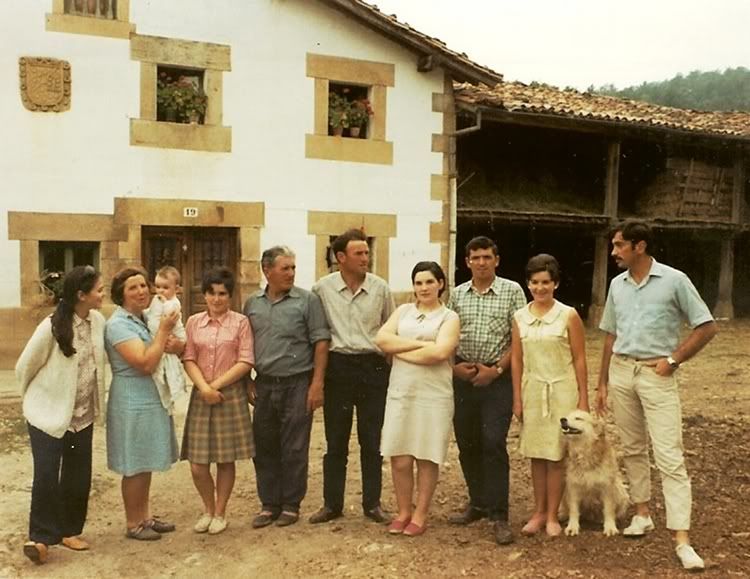 are pictured from left to right; Tia Sara, Nemecia (Antonio's wife) holding Belen (aka Chicken baby), Maria de Carmen (Pilar's youngest sister), Antonio (passed away just a couple of years ago at 88), Jose Luis (Maribi's husband), Maribi, Valentin (Pilar's brother), Pilar and Andy... I forgot to ask who the dog was & of course, you all see the Escudo (shield) up on the wall.
Well, of these folks (and objects), I met the Escudo...
and Nemecia (a lovelier lady would be hard to come by) & of course Pilar (standing to her left is her husband, Jose Maria)...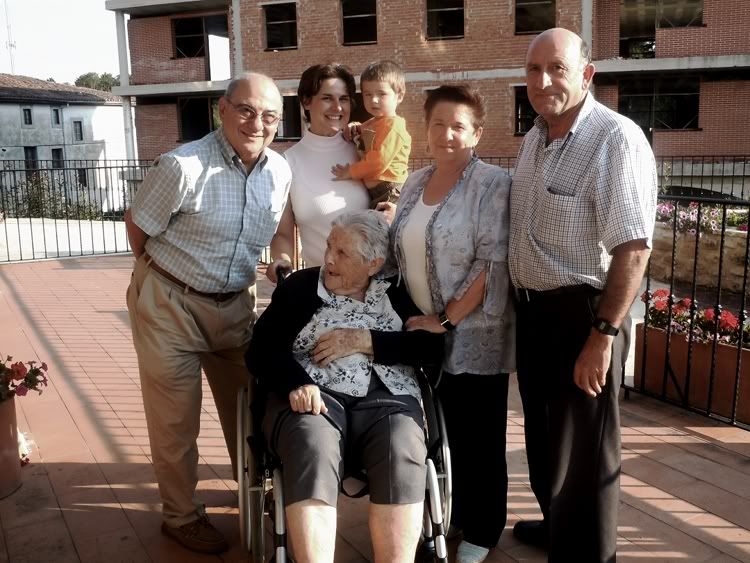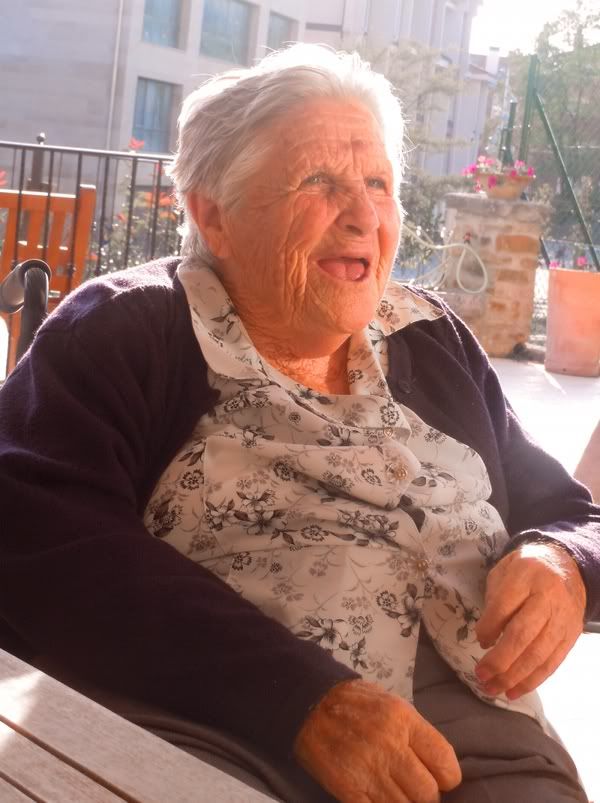 Valentin (sitting beside his neice, Pilar's lovely daughter Edurne)...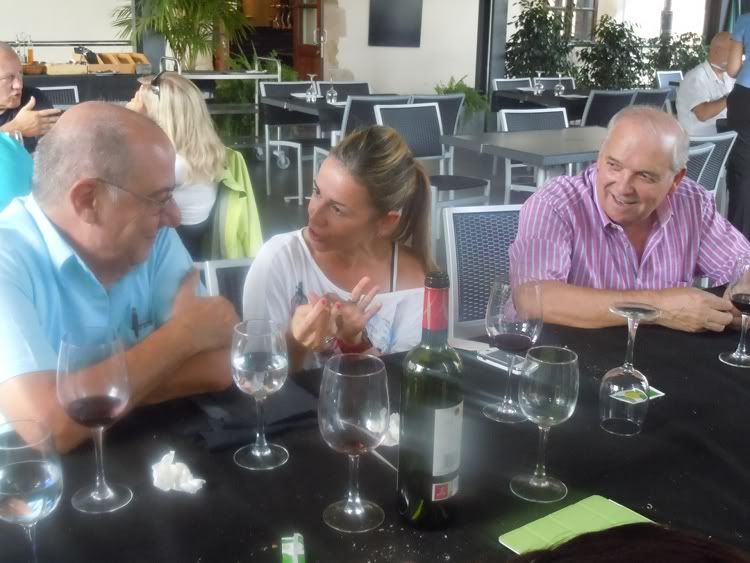 and finally, the chicken baby herself... Maria Belen, who goes by Belen (standing beside Angela)...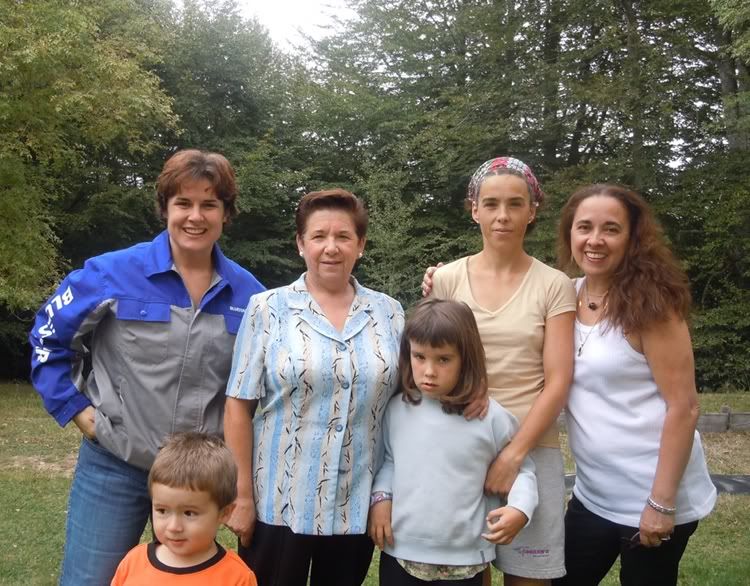 So that's about what I can manage today for my report on Jugo...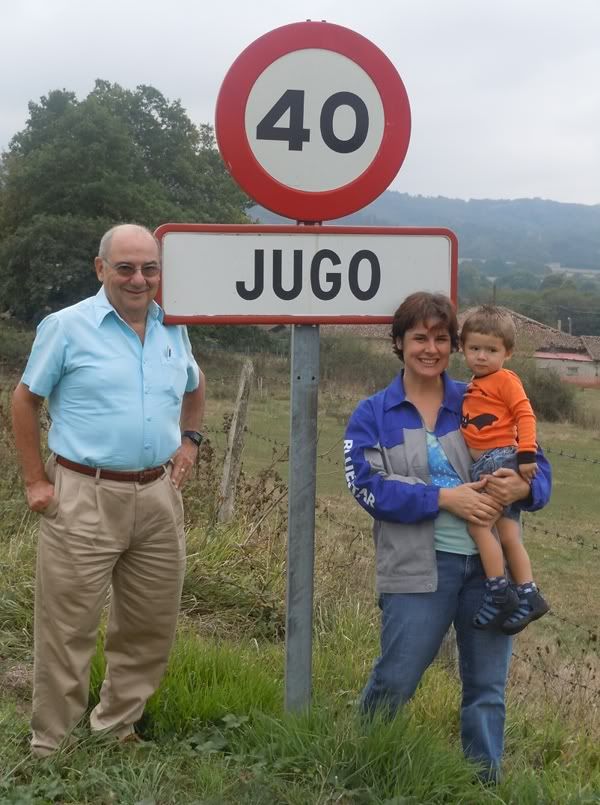 More to come...
Lots of love,
Titi and Radar
PS - Just of kicks, here's a quick shot of Radar at the end of our tour of the Protos winery!!!!