Radar continues to tackle Spain in full overdrive which leads to full collapse every night. Sometimes the collapse comes in the form of conking out in my arms at an outdoor cafe after actually trying Sardines for dinner!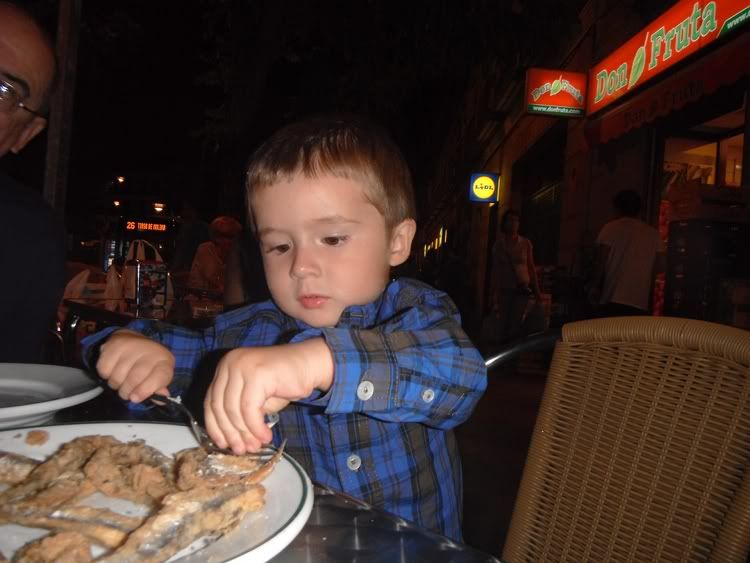 Sometimes it comes in the form of an evening meltdown that abruptly ends with him being asleep. But what's not up for debate is whether Radar is fully enjoying his trip. He absolutely is... and he's particularly enjoying sharing it with me. As we spent Monday and Tuesday walking all over Madrid, his favorite line was "Nene cansada. Mama lleva." (Radar's tired. Mama carries.) (Oh, Radar is pretty progressive on the whole Spanish gender conjugation thing... it's always 'Nene cansada' and 'Mama cansado').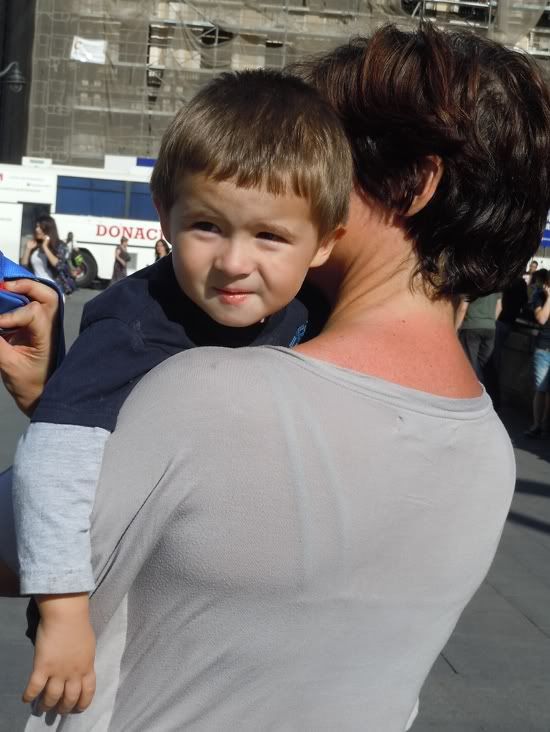 (just like me... I live in the Bahamas, but get sun burned in Madrid!)
Anyway - this was, of course, a total lie. He wasn't tired because the moment we'd find a new park or attraction, he'd wiggle out of my arms and attack it with full force. When I would drag him away, all of a sudden the fatigue would hit him again and I'd have to carry him!
So I was a little concerned how he would take my quick leave of absence on Wednesday. I had to fly over to London for the day for some business meetings and then I returned yesterday. He's old enough now that I can explain some things to him. So I told him that Mama was going to Londres and that he would be going to see Jorge's cousins at the zoo with Nana and Avo.
"Mama no va Londres! Mama queda!" (Mama doesn't go to London. Mama stays.)
So I tried to say that I had to work.
"Mama no trabaja! Mama queda!" (Mama doesn't work. Mama stays.)
And then I tried a slightly different approach. I explained that London had the very best buses in all the world and that I was going on a special mission to get him the best bus in the world.
The kid seemed to actually understand and buy my explanation! Which, of course, meant that I better damn well get him a bus while in London.
And sure enough, I did. When I arrived back into Madrid yesterday, I met my dad and Angela and Radar at the airport where we rented a car to start heading north to Basque country (but not before making a night's pit stop in Ribera del Duero wine country). Well - on our hour and a half ride, Radar refused to let go of his bus (being that his Mama took the trouble of going all the way to London to get it for him)!
So - onward to Jugo tomorrow... don't know if we'll be connected, but I'll definitely take pictures and post whenever I can.
Lots of love,
Titi and Radar
PS - Don't know how many of you had the chance to see the picture that Radar was tagged in on facebook from the birthday party he went to earlier this month... In it, he very obviously scowls at the idea of having to pose with Mickey Mouse.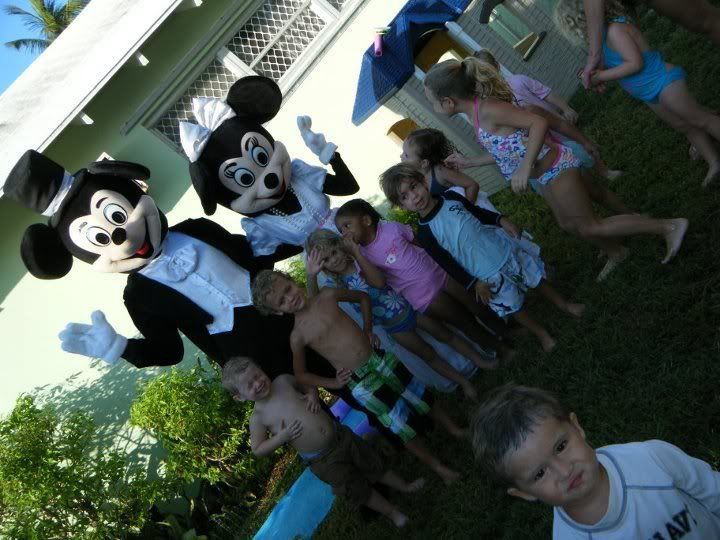 (Skylar's party earlier this month)
I thought it was just because he wanted to be doing something else... but after our visit the other afternoon to Plaza Mayor, I'm thinking that maybe it's got something to do with the mouse!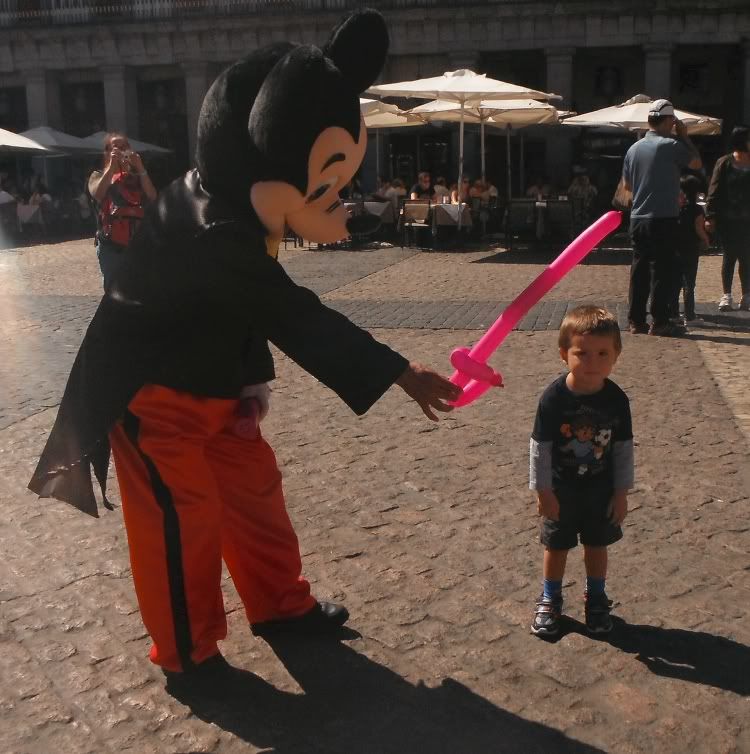 PSS - Some other shots of Radar enjoying Spain so far.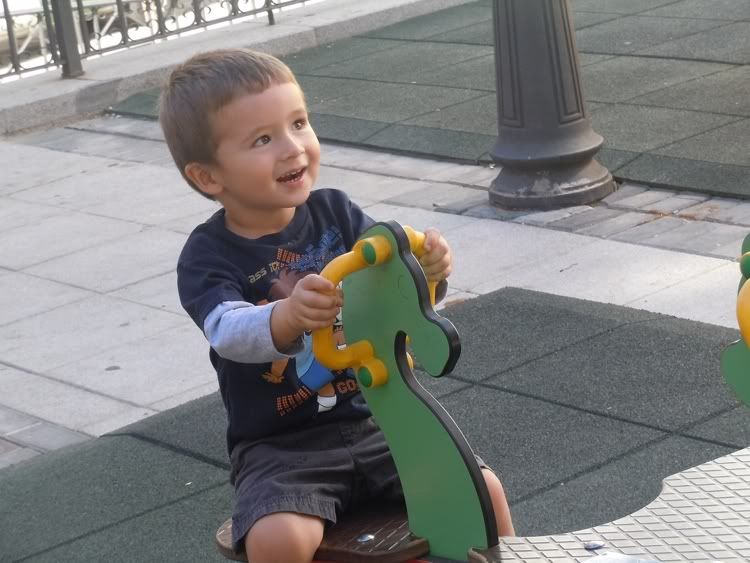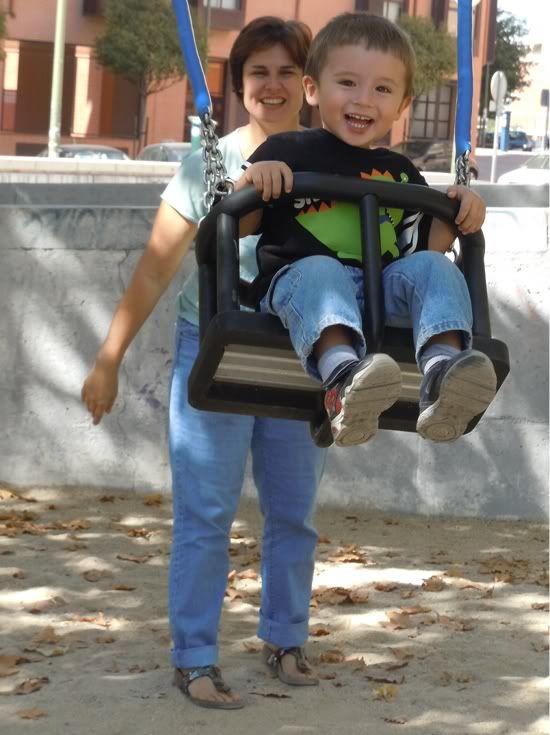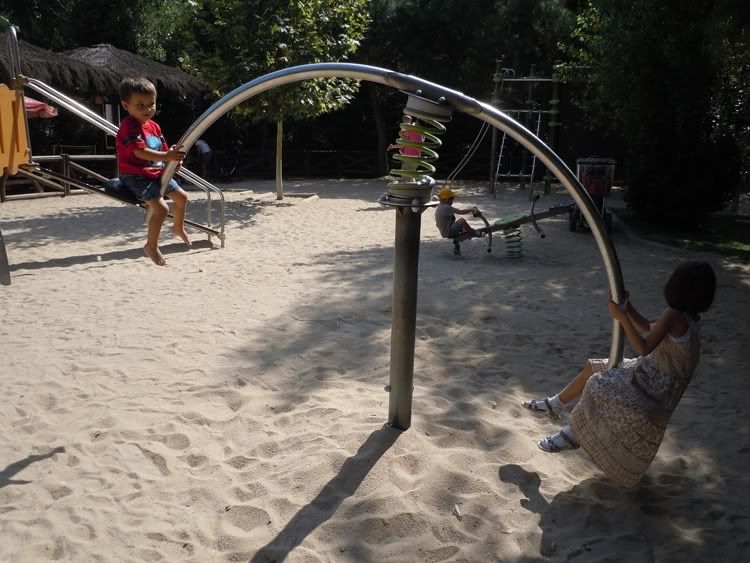 at some of the zillions of kids' parks strewn throughout the city