Over the past few months I've grown increasingly concerned that my son is a nerd! It's got nothing to do with him constantly singing "Happy Birthday" in a robot voice or how he sneaks into my closet to wear my high heeled shoes or that he's approaching three and still won't go to sleep without his pacifier.
No.
Those things don't concern me.
But what has concerned me is that my son is the ONLY child among his friends that doesn't like pizza! We go to parties and all the kids except Radar love pizza! I mean - who doesn't like pizza?????
But just a few days ago a solution began to present itself in the form of an e-mail from Jib Jab about a new ipad app they have where you plug your kid's name and face into children's animated books. They had one free book about making the world's largest pizza!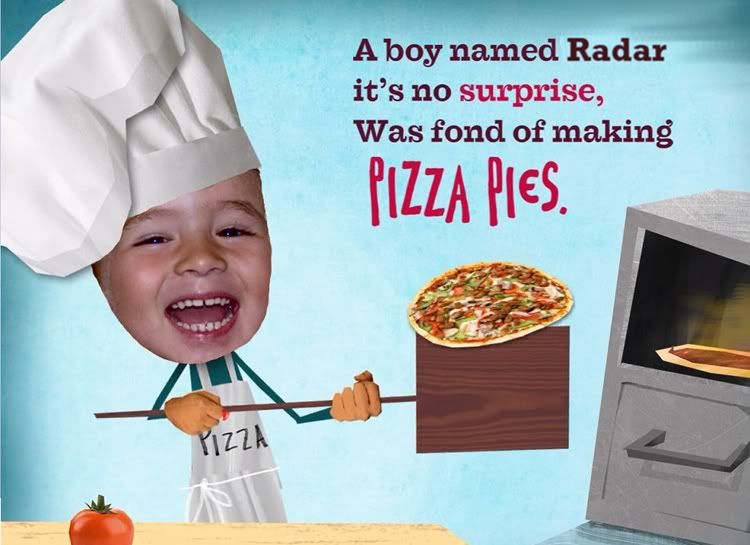 Who would have thought that by plugging Radar's face into the story, he would go bananas over the book. There's one page where Radar is rolling out the dough with a rolling pin. Apparently he somehow knew that I actually have a rolling pin in the kitchen (no idea how he knows that because I NEVER use it!) We read the book several times and every time we'd get to that page, he would roll the bed with the rolling pin! Maybe his opinion of pizza was changing?
So I bought a frozen cheese pizza and heated it up a couple nights ago.
NO! He refused to even let it get close to his mouth!
But I'm not one to give up so easily. If Radar's passion was for making pizza, then I would indulge him and maybe the excitement (and catastrophic mess) of making a real pizza would change his view on the pizza.
And so we embarked on this afternoon's project and after just a little bit of: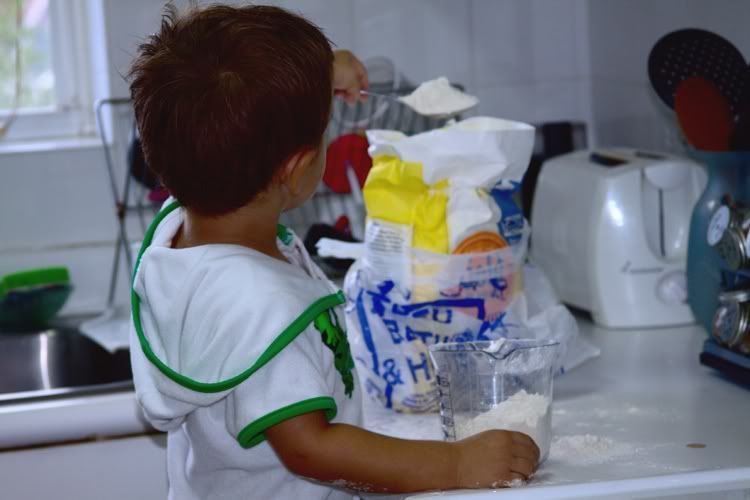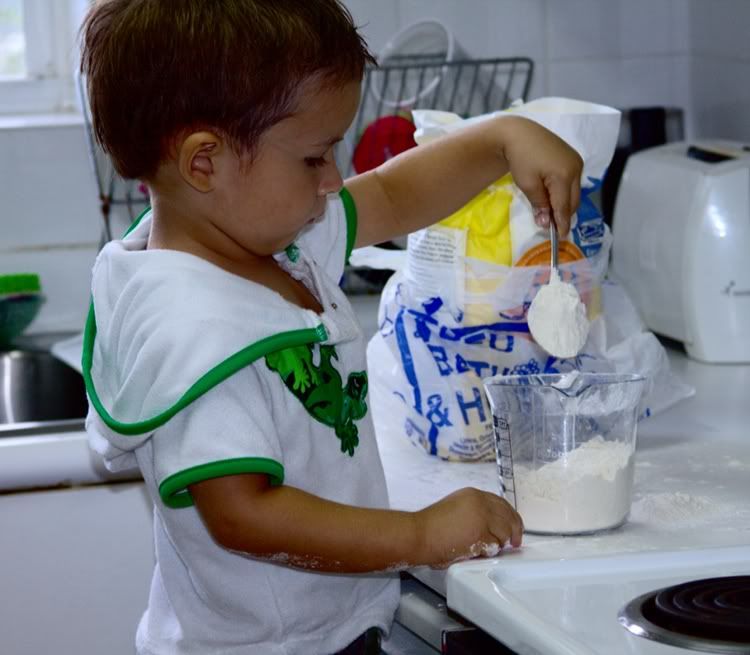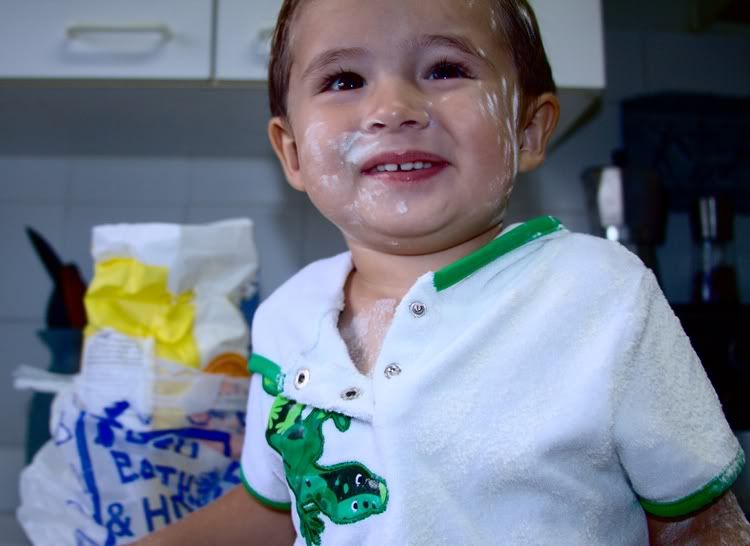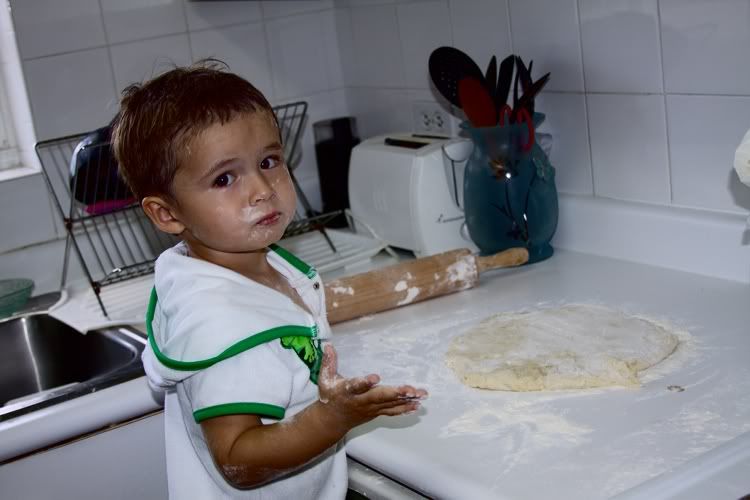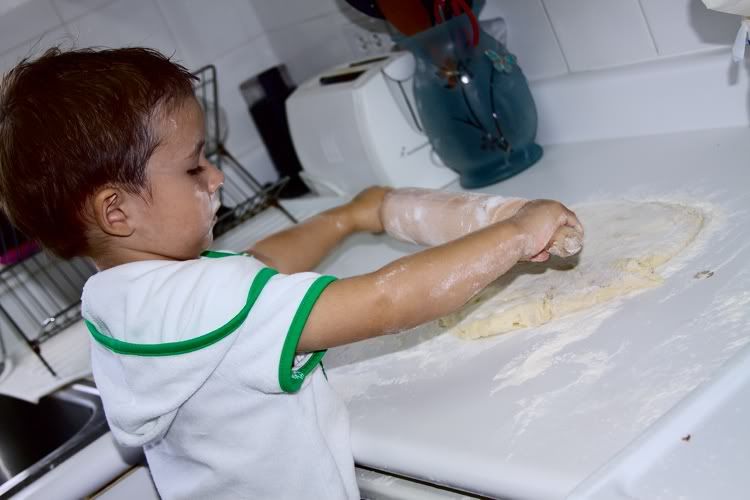 spreading, topping & baking
Well, after all that... we have found our extremely successful solution and all my fears that Radar is a pizza-hating nerd have now vanished!!!!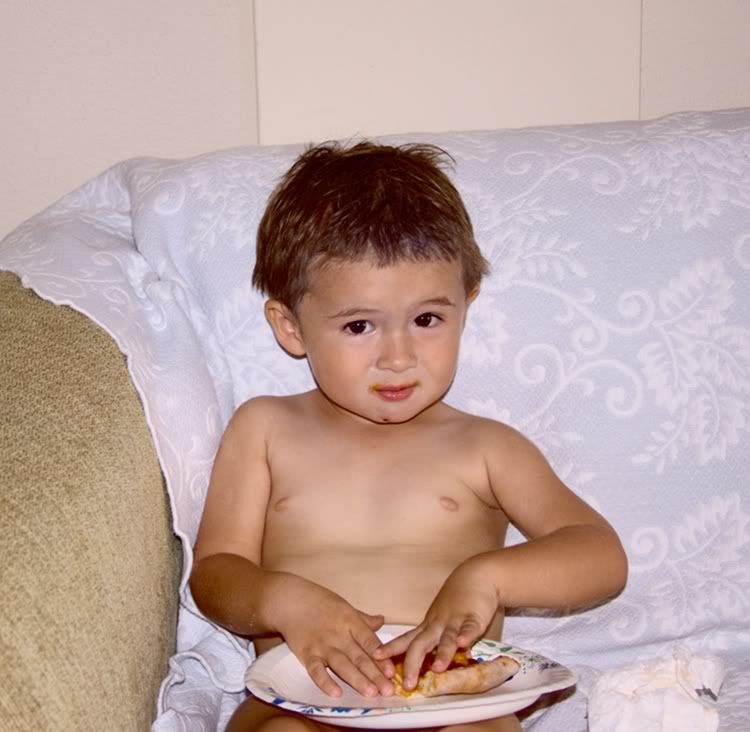 The disasterous mess left in the kitchen after this adventure (including flour somehow caked onto the side of the refrigerator and on the ceiling!) is a small price to pay!!!
Lots of love,
Titi and Radar
PS - September average still intact!!!
PSS - Antonio, we'll drive up to Jugo from Madrid on Thursday, September 22nd. We're flying over to Spain on Saturday the 17th and fly back hom on the 26th.